Incubador de Monstruos
 or
Monster Hatcher
 is an editorial product that explores the process of character design in Concept Art, a field of Illustration widely known and used in the animation, video game, comics, and film industries.  Its main purpose is to inspire aspiring young artists in this particular field, providing friendly illustrated reference material and a practical approach to a specific and personal way of designing characters.
The project was born from an interest in creative processes, and in the exploration of an invisible task such as the construction of an idea. The end product includes two editorial components; an illustrated book that depicts the universe in which the creative stages of character design take place (according to my personal perspective), and a sketchbook that invites the user to draw, offering brief practical tips as well as a paper layout much more convenient for this particular activity. 
Explore & Discover

Research
The starting point to shape a coherent approach to the realm of creativity was to explore and define a solid theoretical, conceptual, and visual background to guide the design decisions of the editorial product. Additionally, interviews with local professional illustrators and conversations with fresh-starting artists were carried out to gain first-hand opinions and experiences regarding the possibilities and challenges surrounding the creative process in illustration. 
Works such as The Art of Thought (Wallas G.), A technique for producing Ideas (Young W.), and Eupsychian Management (Maslow A.) characterized the creative process as a conscious, iterative, phased mental exercise that evolved through practice. Their theories set the guiding principles upon which the end product was built, pointing at the necessity of articulating clear stages or steps to tackle the description of any creative activity.
Conceptual & Visual references
Analyzing projects that sought to deconstruct creative tasks was also fundamental to establishing a conceptual base. This selection represented a mix of functional, modular, collectible pieces that delivered methodological and practical tools to their users. Furthermore, they supported the value of exploring individual perspectives in art and design and addressed the close relationship that should exist between material decisions and communication goals.
The visual references inspire the product's style and potential configurations. Notions like types of paper, color, format, analog or digital illustration, typography, and graphic language are explored through these examples and kept as starting points for my own experiments. My personal style would be the most decisive influence on the visual outcome, given that the intention was to portray my own process for character creation. 
Illustrators Talks & Book Typologies
Four renowned local illustrators were interviewed to contrast their personal viewpoints with the information gathered. Their reflections on the subject were used to pinpoint similarities and particularities within their own creative methods. Understanding their views, habits, and workspaces added depth to my goal of structuring my personal stance and process for character design in concept art.
In parallel, I analyzed a sample of technical, methodological, and inspirational books oriented to guide starting artists. The goal was to understand the nature of these editorial products and identify the common teaching approaches. These included text-heavy layouts, instructions high in technicalities, shallow interaction with the object, and an absence of storytelling resources to immerse the student fully into the process. 
1.
Breaking any creative process into clear phases is an effective way to share it with others.
2.
Sketching has a universal role in all illustration processes. 
3.
Aiming for iteration and refinement as layers of the process is fundamental. 
4.
Research is the angular stone to set a clear north in the communication intent of the artistic endeavor. 
5.
Inspiration and personal preferences play a central part in the originality of the outcome. 
6.
A sketchbook or journal element is a must-have to document and foster idea generation.
7.
Pivoting illustration and storytelling as the central resources to share the creative process can set the ground for an engaging editorial product.
8.
The dimensions of methodology and practice should be included and complement each other.
Defining the audience
The beginner Illustrator
The audience was defined as fresh aspiring artists who look for hands-on resources to develop their skills and personal style. Although it is possible to establish the figure of the novice user, age is not a definitive variable. Ages around 15 were the starting point, but due to the nature of the subject, younger or older people can likely find value in these kinds of editorial objects, possibly even considering them collectible items.
A virtual survey inquired about expectations around the resources they consult or acquire. The main interests were visual explanations, clear instructions for drawing, information on materials, and inspiration to get started. With this information mapped, the stage to ideate an appealing product with an original editorial line was set. 
Concept & Design
Editorial Set for Character Design
The foundation is the exploration of the invisible
. Exposing the birth of an idea and how it evolves in the depths of the mind. Here, the mysterious nature of the creative process and the purpose of shedding light on it translate into a visual concept that feeds on black and white as a technique and rests on two fundamental pillars: to unveil the world of character creation and provide a skill-building component to it.
This gives birth to an editorial set consisting of two elements; an illustrated book for reference/inspiration and a sketchbook for practice. The decision to divide it into two booklets aims to address the informative and practical dimensions in an independent but harmonious way. In doing so, each has its own space to be explored and interacted with, relating with the user in a clearer and more digestible fashion.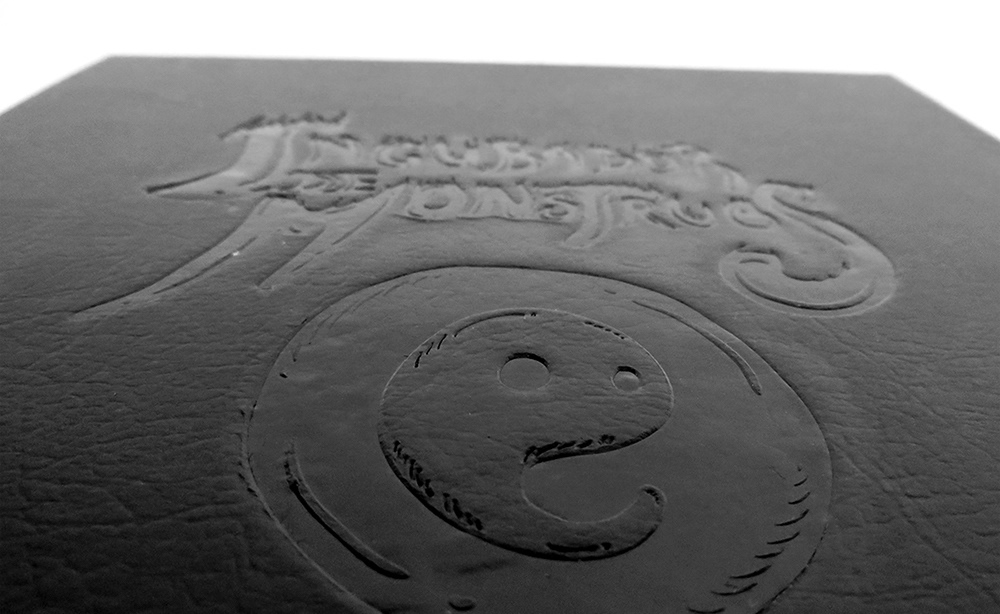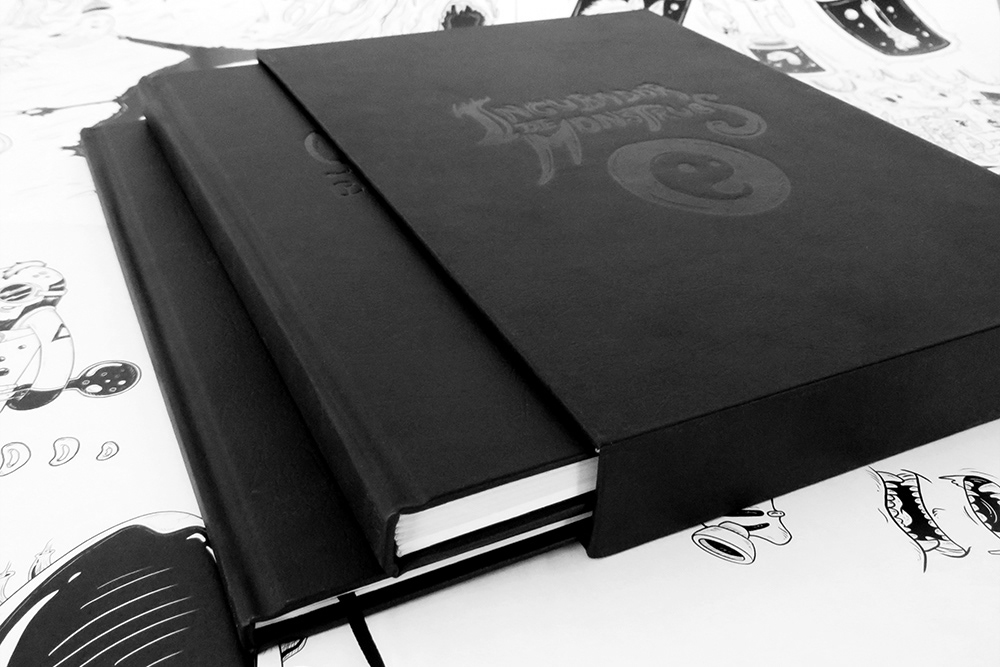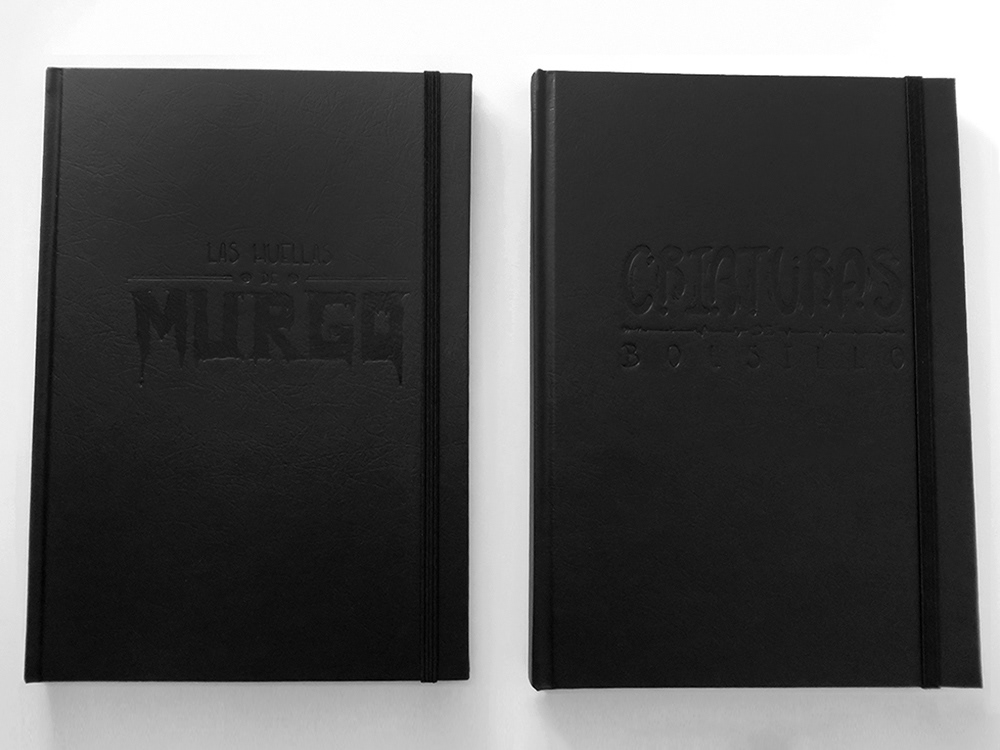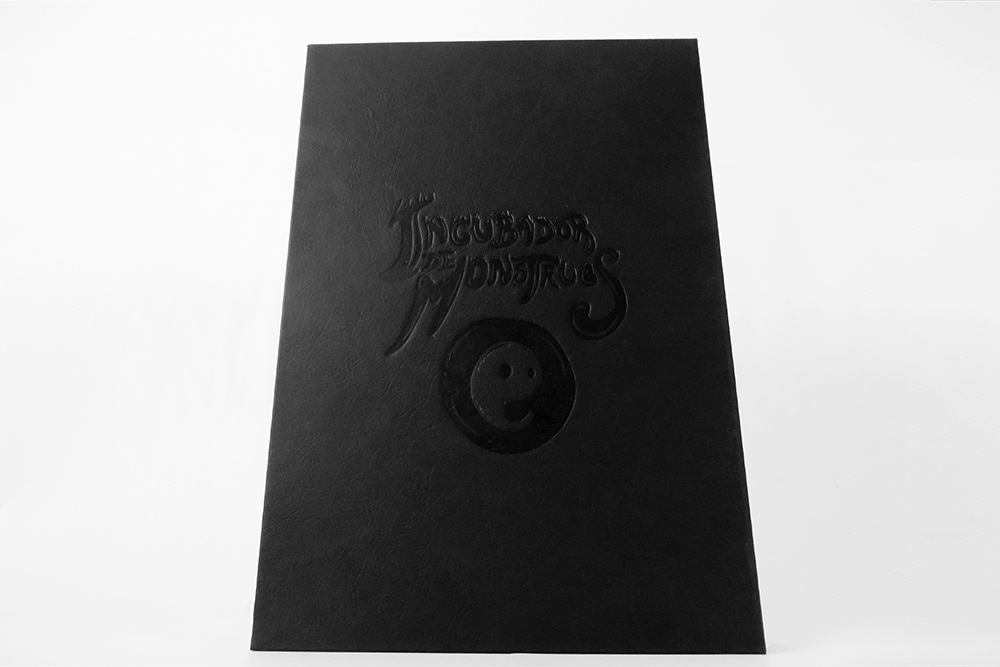 The illustrated book "Murgo's Footsteps" depicts the universe in which the creative stages of character design take place. Divided into four chapters or "zones," the storyline follows the adventurous path that a group of imagination workers (called Imps) must go through to create and bring to life a monstrous character, following specific guidelines handed over by a superior being.
The narrative is a reinterpretation of my creative process; info gathering, experimentation, incubation, and materialization. With it at the center, I went through an iterative process of creating mood boards, storyboards, and scripts to bring the story and characters to life. The following overview describes the development of the visual language and the final outcome.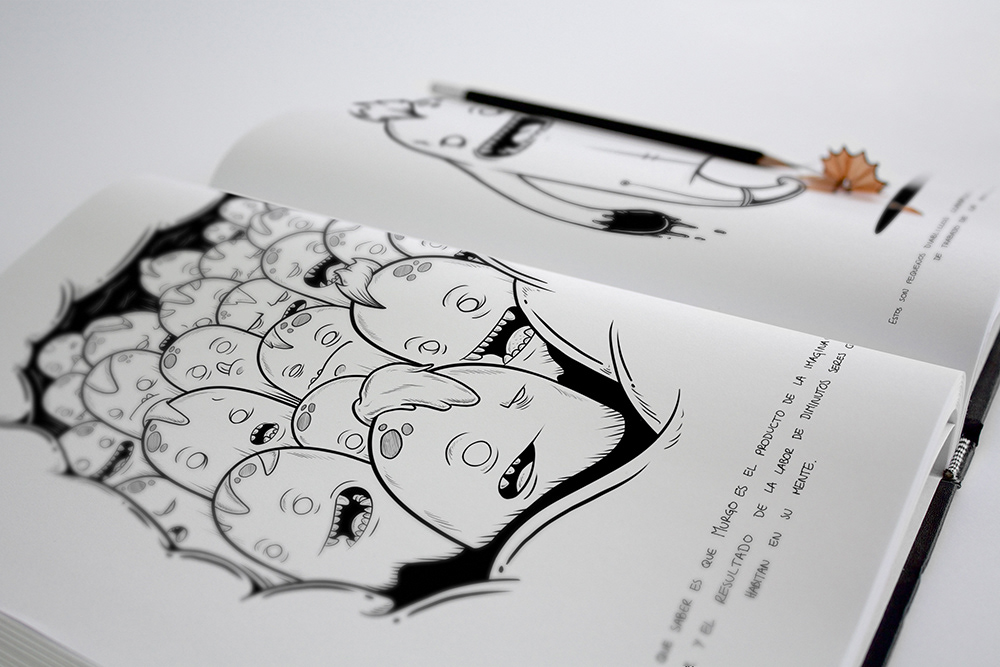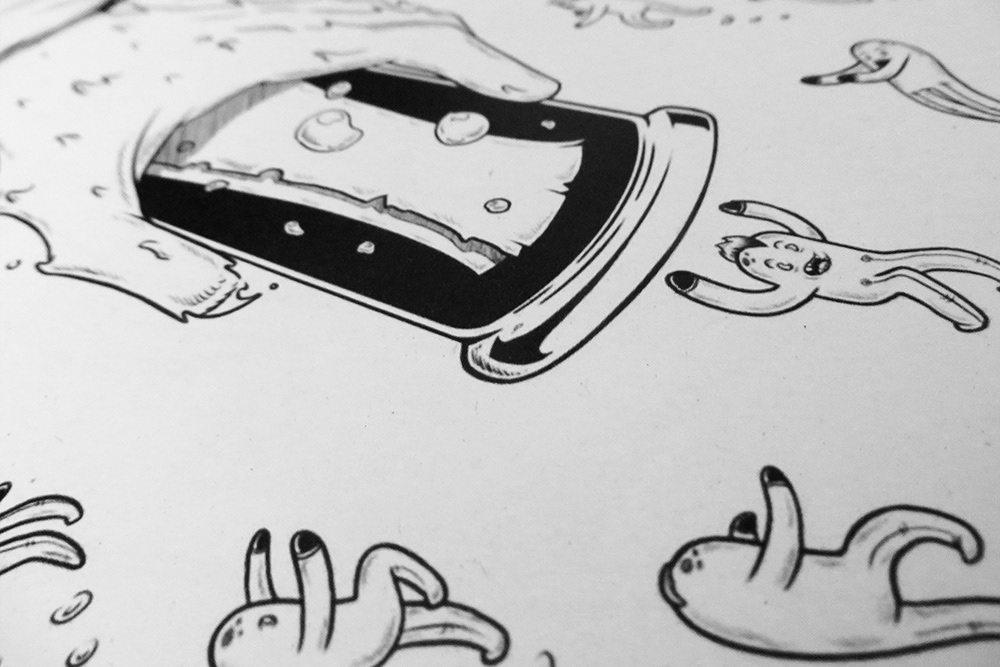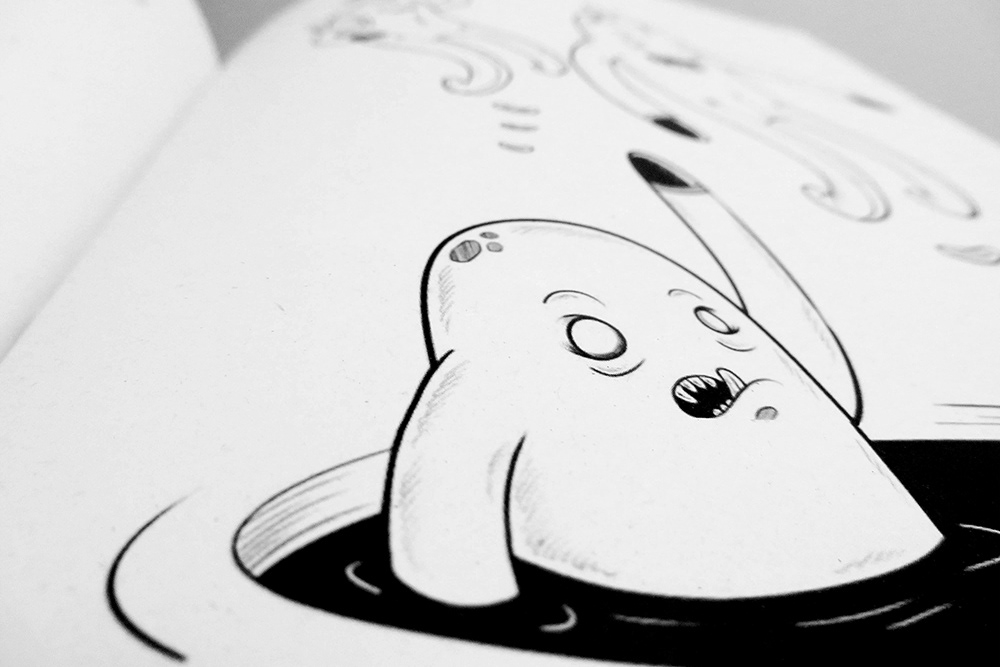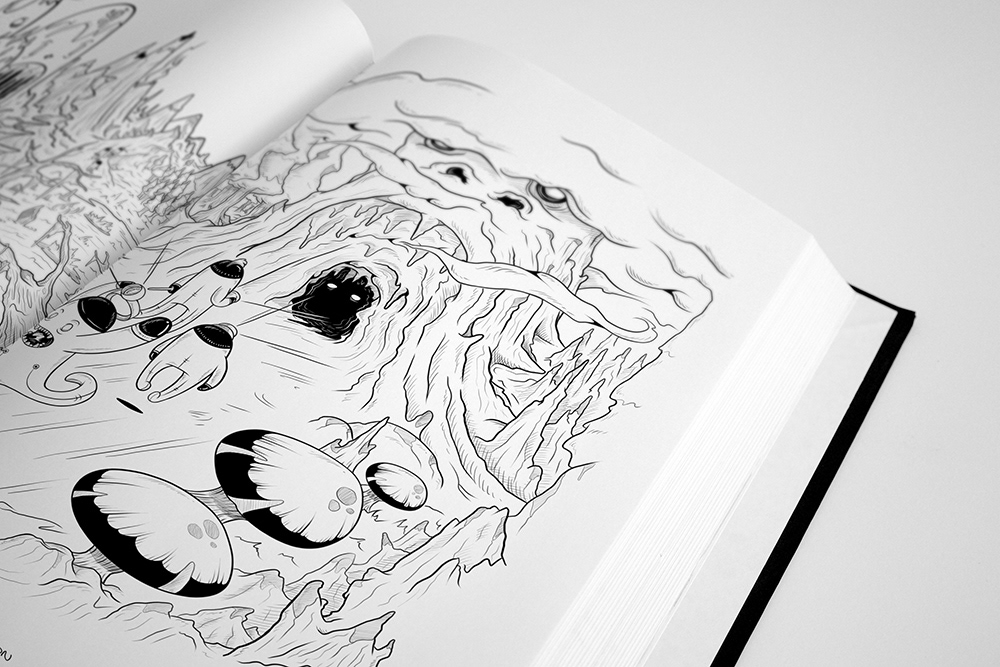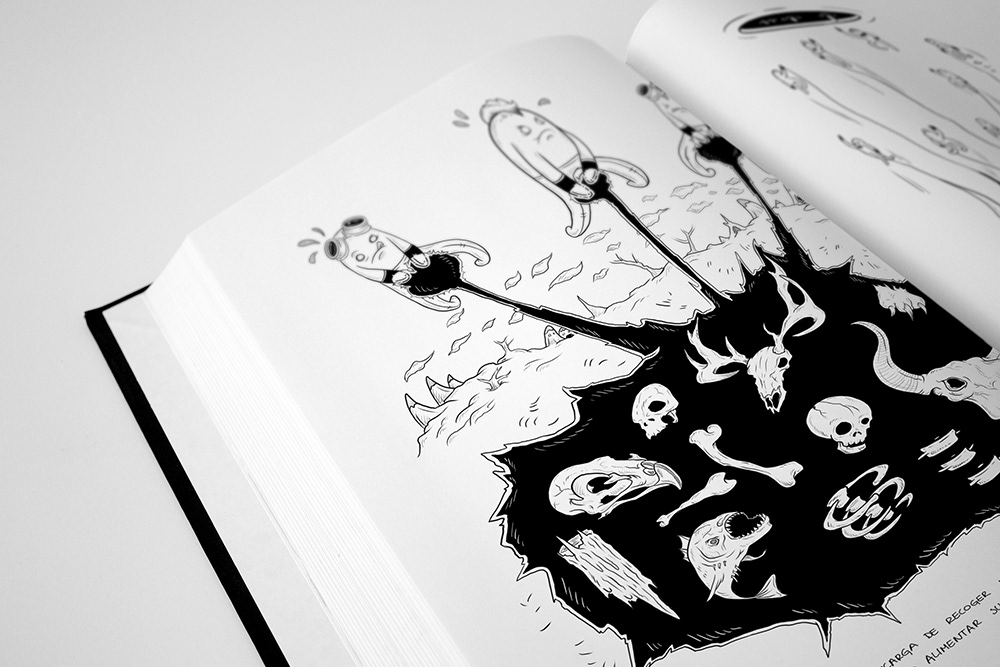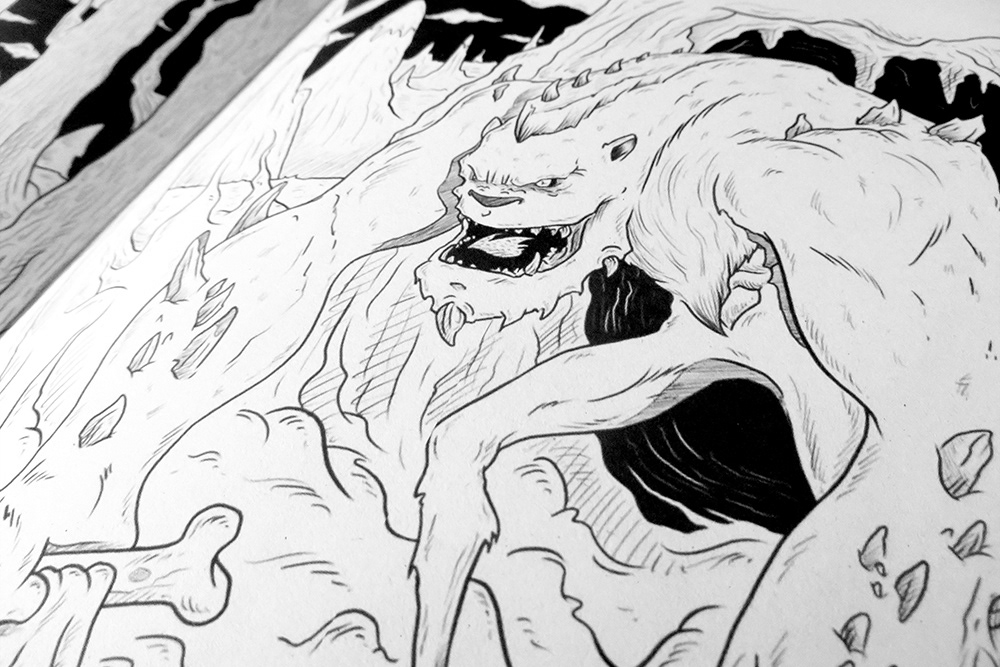 Pocket creatures is a sketch journal designed to complement the storybook. It responds coherently (through its structure and key content) to the exercise of illustrating monsters. Its intention is to motivate and invite its owner to draw, offering concise illustrated tips based on my personal style.
Furthermore, It intends to exploit materials as creative support, including a layout of different surfaces specifically designed for sketching, refining, and inking. Imps appear along its pages, prompting creative cues and inspiration. It dwells in the same visual language to keep things consistent, creating a sense of unity within the set.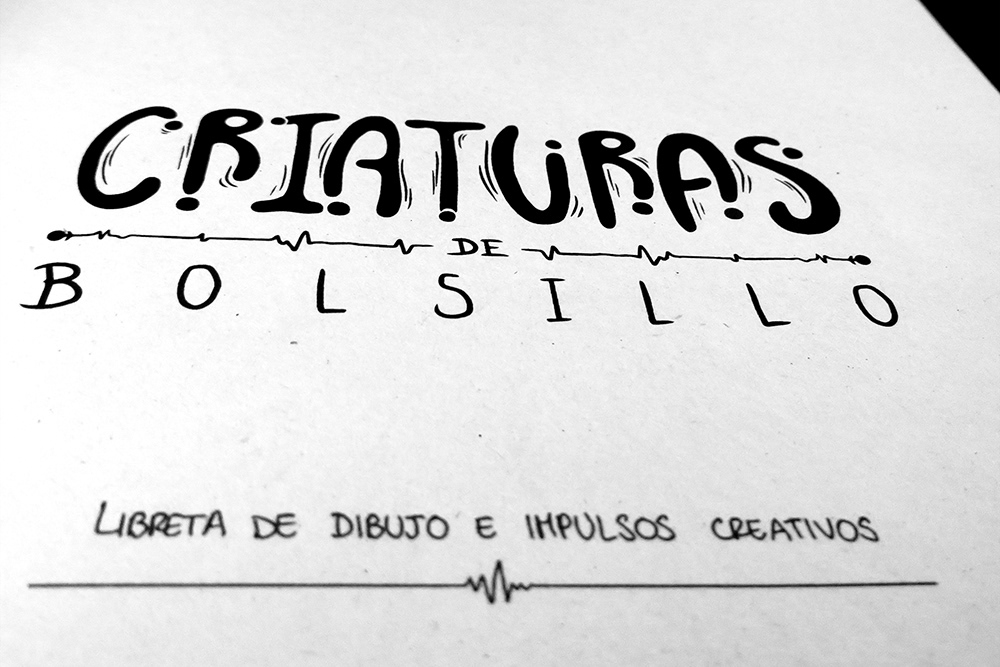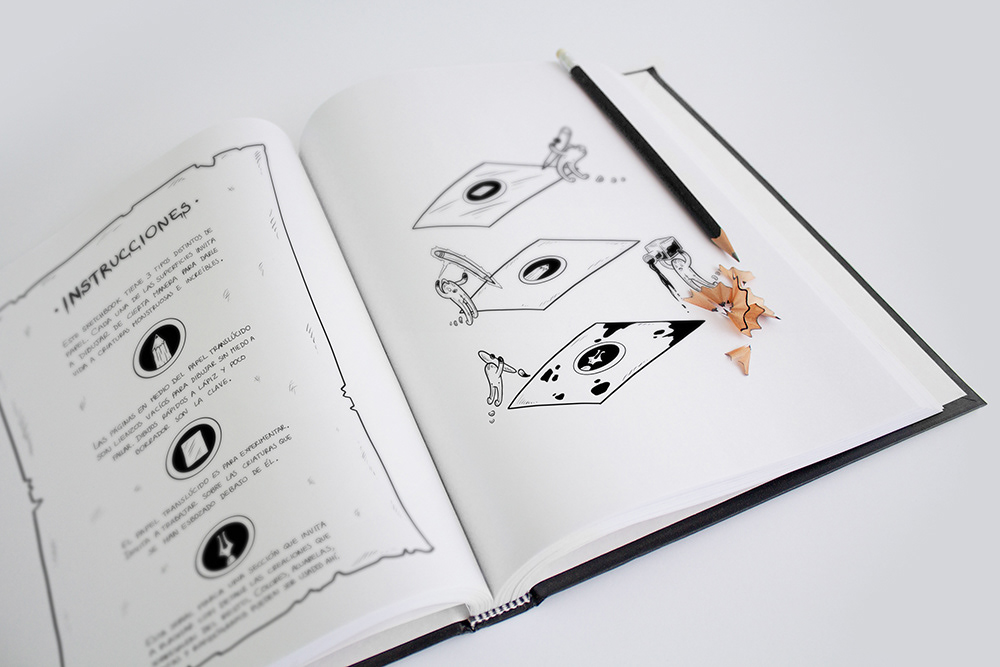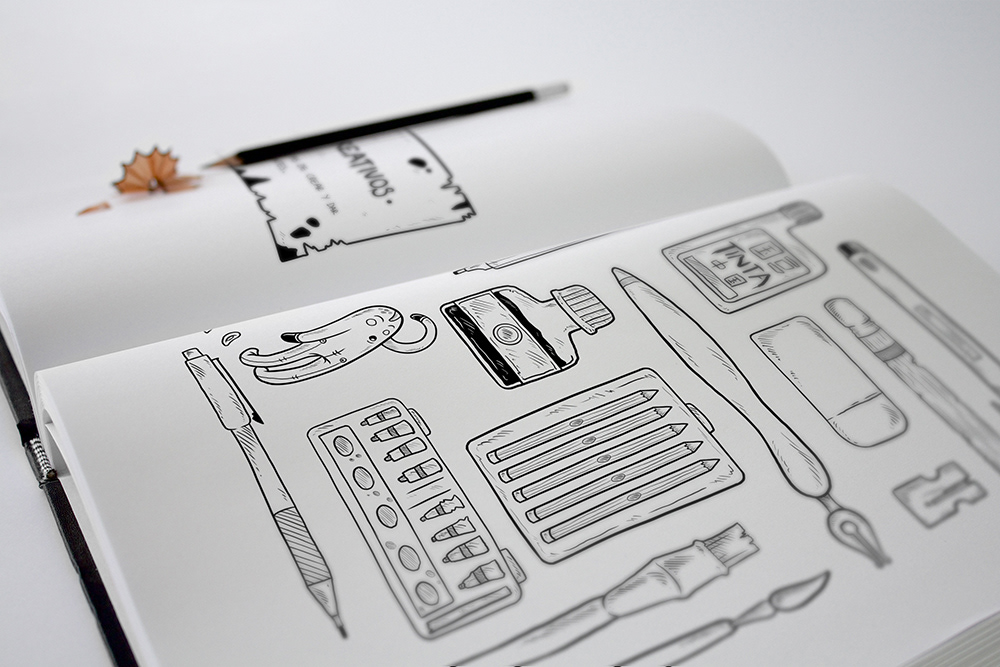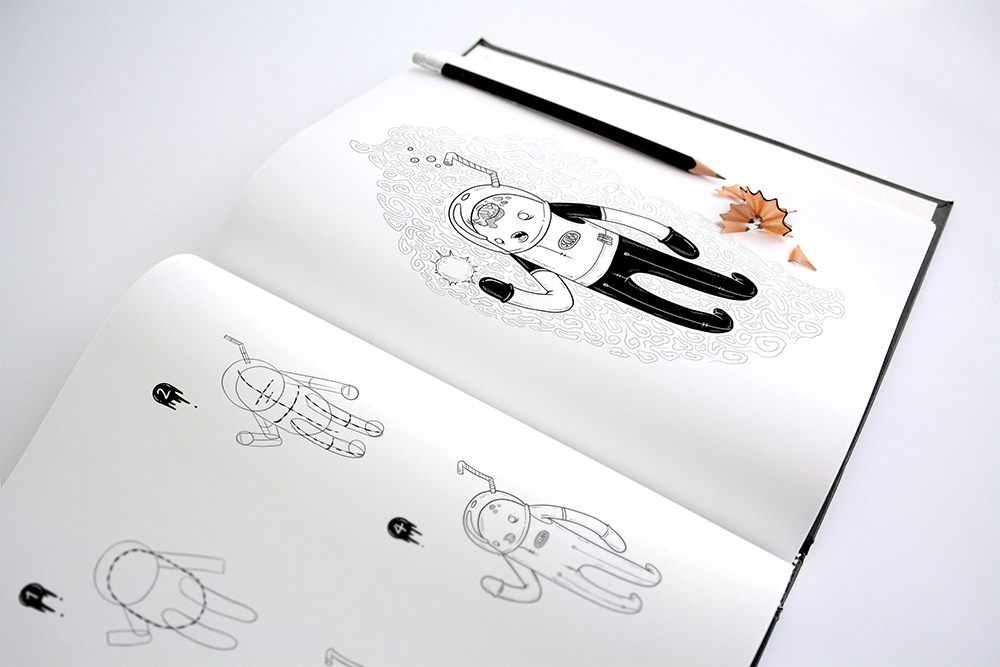 As the final project for my bachelor's (2014), it came as an opportunity to design at the intersection of editorial and concept art, using design thinking, storytelling, and the relationship between image and language as resources to articulate an engaging editorial piece. Considering it was executed in 4 months, the scope and complexity of the end product had to adjust along the way to meet deadlines. Still, it had a solid enough background to reach a highly detailed level, pointing at a solid base to further refine and test a product that could compete well in the art segment for beginner artists.